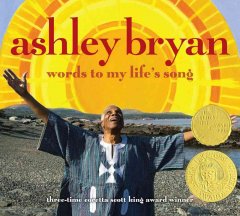 Ashley Bryan grew up in the Bronx in New York City. When he was a little boy his parents noticed right away that he loved to draw and paint and make things. They did everything they could to make sure he had art supplies to create things with. After he graduated from high school he wanted to go to college and study art. He interviewed for a spot at an art institute.
The interviewer stated that mine was the best portfolio that he had seen. However, he also informed me that it would be a waste to give a scholarship to a colored person.
The best artist…but no scholarship because of the color of his skin. Fortunately for all of us, Ashley listened to good advice from his parents. They told him to not let anyone or anything ever stop him from doing what he loves. Ashley persevered. He attended the Cooper Union School of Art and Engineering and Columbia University. He studied art in France and Germany too.
Ashley has taught art, written and illustrated books and created countless beautiful things that you can see in this book: stained glass windows, paintings, sculptures, puppets and more. There is one picture in this book that shows Ashley at home in a room full of his creations. It's like looking at an I Spy picture of wonderful things. I would love to wonder through his studio, pull up a stool and begin creating something. When you read this book written in his own words, you'll realize that if you did walk into his studio, that is exactly what he would want you to do.
Author: Ashley Bryan
Meet the Illustrator: Ashley Bryan
Artcyclopedia: African American Artists
African-American Artists at the National Gallery of Art
Selected African American Artists at the National Gallery of Art
Smithsonian Guide to African American Artists
Coretta Scott King Book Award for Illustration
BrainPopVideo: The Harlem Renaissance
(Source: http://www.imcpl.org/kids/blog/?p=5747)